Either the official shield and wordmark or, at a minimum, the Tulane University horizontal wordmark by itself, should appear prominently on all external publications and mailings. The official shield and wordmark in Tulane green or white must appear prominently on all Tulane websites and other electronic publications.
There are applications in which the TU shield can be used as a graphic element by itself. In printed material, the shield can be used alone as a design element but the Tulane University horizontal wordmark must be printed elsewhere in the same piece. For promotional materials such as cups and key chains, the TU shield can be used by itself but when practical the wordmark can be included on a reverse side or other position. Other graphic elements are also available in the branding style guide and can be downloaded through ResourceSpace.
Clear space
To ensure that clear space is maintained around the logo for legibility and prominence, photos, text and graphic elements must follow the guidelines illustrated here. Use the letter "T" from "Tulane" as a measuring tool to help maintain clearance.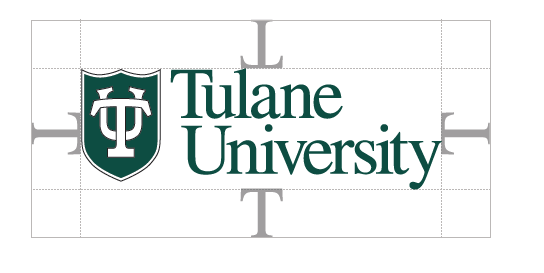 Minimum size
To maintain full legibility, never reproduce the logo at widths smaller than the following dimensions shown here. There is no maximum size limit, but use discretion when sizing the logo. It should never be the most dominant element on the page, but instead should live comfortably and clearly as an identifying mark.



Wordmark and TU shield: 1.875 inches. Shield alone: 0.425 inch. Wordmark alone: 2 inches.
Keep these points in mind to maintain the logo's integrity.
DON'T use only the outline of the shield as the logo.
DON'T stretch, condense or change the dimensions of the logo.
DON'T alter the placement or scale of the elements.
DON'T rotate the logo.
DON'T alter or replace the typefaces of the logo.
DON'T skew or bend the logo in any way.
DON'T use drop shadows, strokes or other visual effects.
DON'T crop the logo.
DON'T add extra elements to the logo.
DON'T use colors other than those shown on the University Logos page.